Product Description
https://lib.getshogun.com/lazysizes/2.0.0/shogun-lazysizes.js
Sweet Almond Oil, the finest quality almond oil direct from Spain. Purity, quality and an everyday low price
Rich in Vitamin A, E, Omega fatty acids and zinc make Almond oil the massage therapists oil of choice
Sweet Almond Oil from Spain
Our Sweet Almond oil comes from the Valencian region of Spain. Grown by farmers that have farmed Almond oil for Generations.
Almond oil for skincare is extracted from the Sweet Almond Tree (Prunus dulcis)
The almond tree is a deciduous tree that grows up to 10 meters in height.
100% Pure Sweet Almond Oil
Our Sweet Almond Oil is exactly what it is says, 100% Pure Sweet Almond.
Many aromatherapy companies claim their Sweet Almond is pure, but in fact sell "cosmetic grade" Sweet Almond which is blended with Sunflower.
We believe your Sweet Almond should be exactly what it says it is and nothing but Almond.
Sweet Almond Oil for Therapists
Sweet almond oil is one of the most popular massage oils among massage therapists.
The oil is slightly oily, which allows hands to glide easily over skin.
Sweet almond oil absorbs fairly quickly, but not so quickly that you need to keep reapplying it and is well tolerated by most skin types.
Sweet Almond oil is safe for almost all skin types, a mild hypoallergenic oil that will clean pores without clogging them
Reasons why you should use Sweet Almond Oil
Sweet Almond is lubricating, but not penetrating, which makes it an excellent massage oil, and protectant. Sweet Almond Oil is the therapists mainstay and is widely used in cosmetics, massage and body products for its rich properties. Sweet Almond is naturally rich in retinoids which are a compound of Vitamin A
1) Moisturises the skin: Almond helps provide lubrication and moisture to the driest skin. It is a relatively light oil so readily absorbs into the skin
2) Repairs dry spots: Sweet Almond helps to heal chapped skin and dry spots when applied topically. The high content of Omega 6 and 9 helps aid the skin's' natural repair.
3) Use as a Facial Cleanser & Make Up Remover: The omega oils naturally cleanse the face and help to remove makeup
4) Reduce under eye puffiness: The natural anti-inflammatory properties of the oil help to under eye puffiness and dark circles.
5) Itching and Flaking Scalp: Almond Oil helps with flaking and itching scalp, helping. Moisturising the scalp and making dead cells loosen their grip from the scalp to be washed out. This makes Almond Oil useful in a Hot Oil hair treatment.
The main components of Sweet Almond are Omega 9, Omega 6, Stearic acid, Palmitic acid and Palmitoleic acid. These different components have the following properties in Sweet Almond Oil.
Omega 9 (Oleic Acid)
Maintains soft and supple skin

Stimulates hair growth

Reduces the signs of aging, wrinkles, dry and fine lines

Anti dandruff

Antioxidant

Helps prevent joint inflammation
Omega 6 (Linoleic Acid)
Moisturises hair and promotes hair growth

Promotes wound healing

Helps with the emulsification of oils and solids

Has anti inflammatory properties

Soothes acne

Promotes moisture retention
Stearic acid
Has cleansing properties on the skin that help control dirt, sweat and excess sebum from the hair and skin

Emulsifies and helps bind oil and water

Conditions hair and makes it feel less heavy

Cleansing properties

Softens skin
Palmitic Acid
Emollient Properties

Softens hair without leaving it greasy

Palmitoleic acid

Moisturises and tightens the skin

Promotes the growth of shiny hair

Enhances the brightness of complexion

Promotes strong, healthy nails

Promotes skin elasticity.
Sweet Almond Oil Properties
Prunus amygdalus dulcis (Sweet Almond) oil
Expeller Pressed from Mediterranean Almond Kernels
Color – Golden
Odor – Nutty
Free Fatty Acids – 0.015%
Peroxide Value – <0.5
Non-Saponifiables –
Saponification Value -198
Iodine Value – 101
Specific Gravity – 1.2-1.5
pH- 4.11
Oleic – 64.8%
Palmitic – 6.3%
Linoleic – 26.3%
Linolenic – 0.3%
Stearic – 1.4%
Vitamin A, Vitamin B1, Vitamin B2, Vitamin B6, Vitamin D, Rich in protein, linoleic acid, minerals.
For strong healthy nails massage Sweet Almond into the cuticles. Repeat daily, do it when you have some free time, for example when you are watching TV and see the benefits.
None recorded and as with all carrier oils (except St Johns Wort), safe to use during pregnancy. As with all nut based carrier oils, always use with caution on people with nut allergies.
Production of our Sweet Almond Oil
Our Sweet Almonds are dried and then extracted with with an Expeller Press. Expeller pressing extracts a large amount of oil from the Almond and whilst no heat is added, the extraction process does create mechanical heat due to the friction.
Whilst this extraction yields a thinner oil than cold-pressing, the oil is far more usable than cold pressed oil in skincare and is far more compatible with the skin's surface and structure. Cold Pressed Almond can caused clogged skin pores, whilst expeller pressing the Sweet Almond Oil makes it hypoallergenic and non clogging to the skin.
We do also sell Sweet Almond in a cold pressed version (click here), but we would recommend always buying this expeller pressed version if you plan to use Sweet Almond for massage or skincare recipes.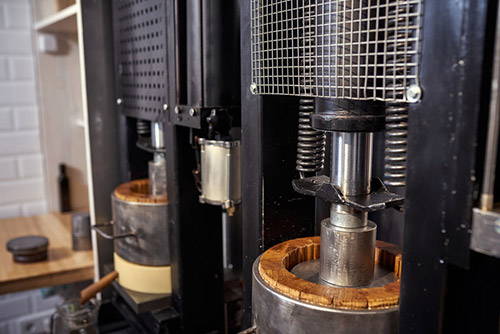 window.SHOGUN_IMAGE_ELEMENTS = window.SHOGUN_IMAGE_ELEMENTS || new Array();
window.SHOGUN_IMAGE_ELEMENTS.push({ hoverImage: ", uuid: 's-0272c0ad-43cd-48c5-9963-2d068aacb8ab' })
Specifications
Weight:

0.15 kg

Contraindications:

N/A

Country of Origin:

Spain

Latin Name:

Prunus amygdalus dulcis (Sweet Almond) oil

Part of Plant Used:

Seed

Purity:

100% Pure

Scent:

Light fatty acid scent

Skin Properties:

Sweet Almond is lubricating, but not penetrating, which makes it an excellent massage oil, and protectant.

Key Benefits:

Therapist Essential

Size:

100ml

HS Code:

33049900

HS Description:

Sweet Almond Oil

HS Country:

GB

HS Composition:

Plant Oil