Product Description
https://lib.getshogun.com/lazysizes/2.0.0/shogun-lazysizes.js
Juniperberry oil is detoxifying and cleansing with a stunning top note. Easily blends with floral oils to create detoxifying and cleansing scents
Juniperberry Essential Oil
Growing to about 6ft, Juniper is an evergreen shrub. The shrub can grow to around 30ft when alone in the wild. The shrub is found in many parts of the world and has needle-type leaves with greenish-yellow flowers and small berries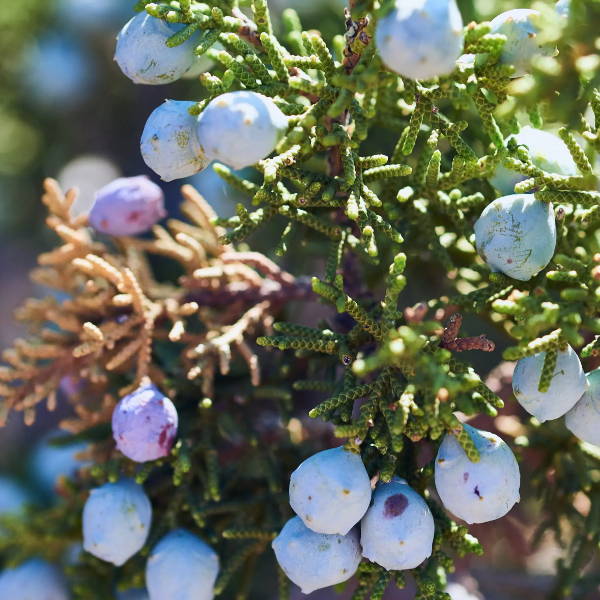 window.SHOGUN_IMAGE_ELEMENTS = window.SHOGUN_IMAGE_ELEMENTS || new Array();
window.SHOGUN_IMAGE_ELEMENTS.push({ hoverImage: ", uuid: 's-f78df9b5-adb8-4a80-9256-d5d8dd2267dc' })
Characteristics of Juniperberry Essential Oil
Instantly recognisable, with a sharp green top note and fiery, woody, sweet undertone, based with a hint of lemon
Common Uses of Juniperberry Essential Oil
Juniperberry essential oil is a powerful healing agent with many beneficial properties. Aromatherapists have used juniperberry essential oil for centuries to treat various ailments, including skin problems, digestion issues, and respiratory disorders. Let's explore the many ways that juniperberry essential oil can improve your overall health and wellbeing.
Skin
Juniperberry essential oil has antibacterial and anti-inflammatory properties, making it perfect for soothing irritated skin. It also promotes healthy circulation, making it great for reducing puffiness or dark circles under your eyes. This oil helps to balance sebum production in the skin, making it perfect for those with oily or combination skin types. Additionally, juniperberry essential oil can help reduce redness and inflammation caused by acne or eczema. It can even be used as an effective treatment to remove blemishes such as age spots and scars.
Mind
Juniperberry essential oil is made up of various components that work together to provide the various mental benefits associated with it. According to a study conducted by the International Journal of Neuroscience, some of these components include camphene, alpha-pinene, sabinene and limonene (which are all very powerful terpenes). These terpenes are known for their anti-inflammatory and calming properties which can help reduce stress and anxiety levels. In fact, research has also shown that juniperberry essential oil can help increase concentration levels as well as boost mood.
Body
Juniperberry essential oil's healing properties are thought to come from its high concentrations of antioxidants and anti-inflammatory compounds. Studies have shown that these compounds can help reduce inflammation around the muscles, which can in turn reduce soreness. This is especially beneficial after intense workouts when muscles are likely to be more sore than usual.
In addition to reducing inflammation, juniperberry essential oil is also thought to have pain relieving properties. When applied topically, the powerful blend of antioxidants and anti-inflammatory compounds work together to combat muscle fatigue and tenderness, allowing you to recover faster from tough workouts or injuries. This can be especially helpful for athletes who need quick recovery time between workouts or competitions.
Finally, juniperberry essential oil also has antispasmodic effects, meaning that it helps relax tight muscles and relieve cramps or spasms caused by intense physical activity. This makes it an ideal choice for those looking for a natural way to manage post-workout aches and pains without resorting to over the counter medications.
Hair
This versatile oil offers plenty of benefits for those looking to nourish their hair without relying on harsh chemicals or synthetic ingredients. Its antiseptic qualities make it great for treating scalp issues like dandruff and flaky skin, while its moisturizing effects can help improve elasticity in dry or damaged hair. And because it has anti-inflammatory properties, juniperberry essential oil can help reduce inflammation in the scalp caused by irritation or sensitivity. It also helps to strengthen weakened strands and can even promote growth!
Aroma
Ginger blends well with

Bay, Cajuput, Caraway, Cardamom, Cinnamom, Coriander, Clove, Elemi, Eucalyptus, Frankincense, Geranium, Lemon, Lime, Myrtle, Orange, Rosemary, Spearmint, Verbana.
Precautions when using Juniperberry Essential Oil
Juniperberry blends well with other woods and citruses and also with Benzoin, Bergamot, Cypress, Frankincense, Geranium, Grapefruit, Orange, Lemongrass, Lime, Melissa, Rosemary and Sandalwood.
Juniperberry Essential Oil Technical Information
| | |
| --- | --- |
| Criteria | Information |
| | |
| | Juniperus communis (Juniperberry) Fruit Oil |
| | |
| | Steam distilled from the crushed and partly dried berries |
| | |
| | 100% Pure Essential Oil, therapeutic grade |
| | Borneol, Terpineol (Alcohols), Cadinene, Cedrene (Sesquiterpenes), Camphene, Mercene, Pinene, Sabinene (Terpenes). |
| | 8002-68-4/73049-62-4/84603-69-0 |
| | |
| | Juniperberry blends well with other woods and citruses and also with Benzoin, Bergamot, Cypress, Frankincense, Geranium, Grapefruit, Orange, Lemongrass, Lime, Melissa, Rosemary and Sandalwood. |
| IFRA Certificate 49th Amendment | |
| | Please see the Technical Tab below for SDS, Allergens information and IFRA Certificates |
Research has also shown that juniperberry essential oil can help increase concentration levels as well as boost mood
https://cdn.getshogun.com/5/global-assets-a6bd8cca5948c38eb3b5fca0937acf64bd104b41.js
Specifications
Weight:

0.03 kg

Blends Well With:

Cedarwood, Cypress, Clary Sage, Geranium, Grapefruit, Lavender, Lavendin, Bergamot, Orange, Lime, Lemongrass

Contraindications:

Avoid During Pregnancy, Avoid use if you have kidney problems

Country of Origin:

Macedonia

Latin Name:

Juniperus communis

Traditional Physical Properties:

Rheumatism, Gout

Part of Plant Used:

Fruit

Purity:

100% Pure

Scent:

Clean, Fresh Turpentine Top Notes with Smoky, Balsamic, Woody, Peppery undertone

Key Benefits:

Fluid Retention

Traditional Emotional Use:

Mental exhaustion

Traditional Skin Use:

Decongestant, Cellulite, Fluid Retention, Weeping eczema

HS Code:

33013000

HS Description:

Juniperberry Essential Oil

HS Country:

GB

HS Composition:

Viscous Liquid